Cleaning up old NVIDIA driver files
Did you know that each time you installed a Geforce driver update your old files get left behind? This phenomenon has existed for years. However, with the introduction of the NVIDIA Geforce Experience it has gotten even worse. There are now three locations that get filled with unused files. GameplayInside shows you how to clean up old NVIDIA driver files to save disk space!
Location 1 – Temporary installer directory
The issue
When you run the NVIDIA Geforce Driver installer it will extract all files to a temporary directory with a sub folder for each release.

The impact
As you can see I currently have 1287 MB of installation files on my hard disk. It is actually a Solid State Drive so every MB counts!

Removal instructions
These files are 100% safe to remove. They are only used during installation of the Nvidia graphics driver. To remove them and save disk space simply go to:
C:\NVIDIA
Now delete all folders inside it!
Location 2 – Geforce Experience
The issue
With the introduction of Geforce Experience NVIDIA has decided it is a good idea to build a library of files. In theory these files can be used in a roll-back and SHOULD be deleted when uninstalling or updating your driver. However in reality you usually update your driver without the "perform a clean install" checkbox.
So guess what? You get a ton of files inside the actual driver installation directory that are completely useless!
The impact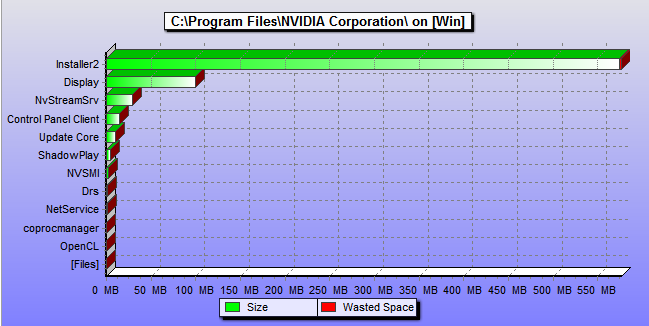 In this example I have 574 MB of useless files .
Removal instructions
To remove these files and save disk space simply navigate to:
C:\Program Files\NVIDIA Corporation\Installer2
Now delete all files INSIDE this folder. Do not delete the folder itself.
Location 3 – Geforce Experience Download folder
The issue
Geforce Experience also keeps a copy of all drivers it has downloaded automatically. Even if you decide to install the driver it will still keep a copy forever. You will soon end up with dozens of useless files because Nvidia releases these updates monthly.
Thanks to David for bringing this to my attention in the comments.
The impact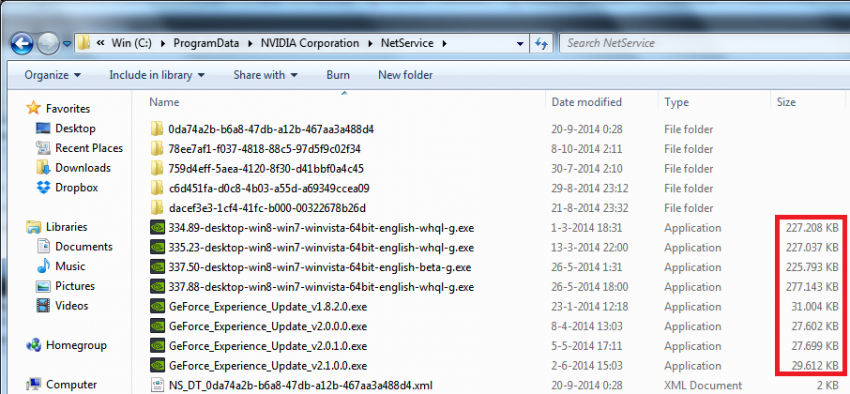 In this example there were 1002 MB of unnecessary files.
Removal instructions
To remove these files and save disk space simply navigate to:
C:\ProgramData\NVIDIA Corporation\NetService
How delete all .exe files with the Nvidia logo. In this example I saved 1002 MB!
Summary
By removing the C:/NVIDIA folder and cleaning the Installer2 directory I managed to save 1726MB. I went through this process less than a month ago so you could even have even more savings! Thanks to David I ended up saving an additional 1002  MB from the NetService directory.
How much did you save?