Performance
[startclear] [postad]
This test uses a hard drive from 2008, a hard drive from 2013 and a raid  0 array of two 2008 hard drives. Furthermore an Intel  520 SSD and Seagate Desktop SSHD 2 TB were included.
[stopclear]
Real world Performance
To test "real" performance we have to look at real time traces. Hard drive actions during real scenario's were recorded and are simulated on each drive.  Because this is a real time trace, a doubling of a score means the product is actually two times faster
Gaming subscores
The gaming tests starts World of Warcraft and loads a character. Only 106 of the 6305 operations were 1MB or larger. Meaning a lot of files are actually pretty small!

The modern Seagate 7200.14 it is about 18% quicker than the 5 year old reference drive.  A pretty decent upgrade for gaming!
The Raid 0 array only improved 13%, demonstrating this game used too many small files for it to be effective.
The SSHD is 66% quicker which is good news for gamers!
The  SSD destroys the competition by being 180% quicker.
Overall this graph shows that you can greatly increase your performance by upgrading your storage device. You can double it by getting an SSHD and then you can double it again by getting an SSD.  Keep in mind that the SSHD is 57% more expensive, whereas the SSD is 1600% more expensive.
Other tests sub scores
For those interested I will quickly walk through all the subtests:
Starting applications: Copy and open a document, open Internet Explorer
adding music: import 68GB of music into the Windows Media Player library
Windows Media Center;  simultaneous playback and recording of movies
Video editing: Publishing a file with Windows Movie Maker
Importing pictures: Import 68 images (434mb) from an USB stick into the Windows Live Photo Gallery
Windows Defender:  A Windows Defender quick scan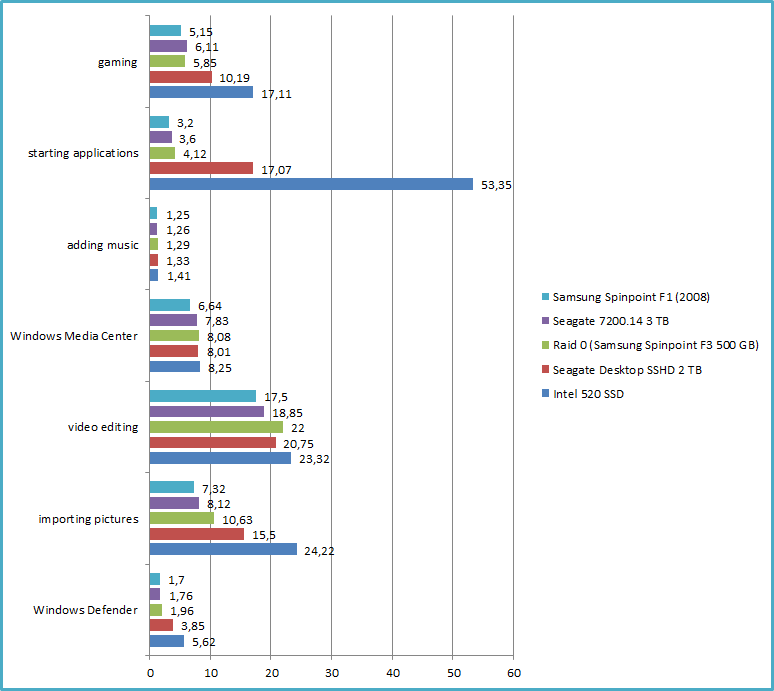 The SSD and SSHD are vast improvements for gaming and starting applications. This is explained by the small nature of the files involved. The smaller the files, the slower the hard disk drives. The SSD actually becomes quicker when requesting multiple small files because it can access them simultaneously.
Video editing , windows media center and adding music show hard disk drives are fine for large and sequential operations. On these tests the expensive SSD shows no significant improvement. The raid 0 array is very effective.
The Windows Defender test leans heavily on small files and IOPS (operations per second), again the home court of the SSD.