[startclear] [postad]
There is a competition going on called the Golden Yoystick Awards. Although I did not really like the nominations (too many console games!) completing this survey can get you a free copy of XCOM: Enemy Unknown. You can also earn an 80% discount on its succesor; XCOM: Enemy Within. Keep reading for a brief tutorial.
Now I realize there are a LOT of steps but really you can do this in a few minutes. Just keep in mind that you only need to vote for one game and then you can submit your votes!
Keep in mind that the stock is not unlimited and it is territory based. So USA could be out of keys whilst Europe still has keys left.
[stopclear]
How to claim 80% discount on XCOM: Enemy Within
After you have completed the tutorial below you will unlock your 80% discount by completing two in-game achievements from XCOM: Enemy Unknown:
And So It Begins… (complete the tutorial mission)
Play for 1 hours (play for one hour)
Quick tutorial for a Free steam copy of XCOM: Enemy Unknown
Step 1 – Start voting
Go to the Golden Yoystyick Awards page and press Start voting.
Step 2 – Vote for at least one award
Choose a game in at least one category. If you are lazy you can skip the other questions. Just immediately press the Submit button on the left.
Step 3 – Submit votes
Press Sumbit your Votes.
Step 4 – Login on CVG
Now Log in or Register a new account on the computerandvideogames.com website.
Step 5 – Claim your game
Now go to http://goldenjoysticks.greenmangaming.com/ and enter
The email adress used to submit your votes
A username for a "playfire" account
A password for a "playfire" account
Date of birth
Now press the big Claim Free Game button.
Step 6 – Link with Steam
You wil receive an email with subject "Please verify your email to claim your free game!".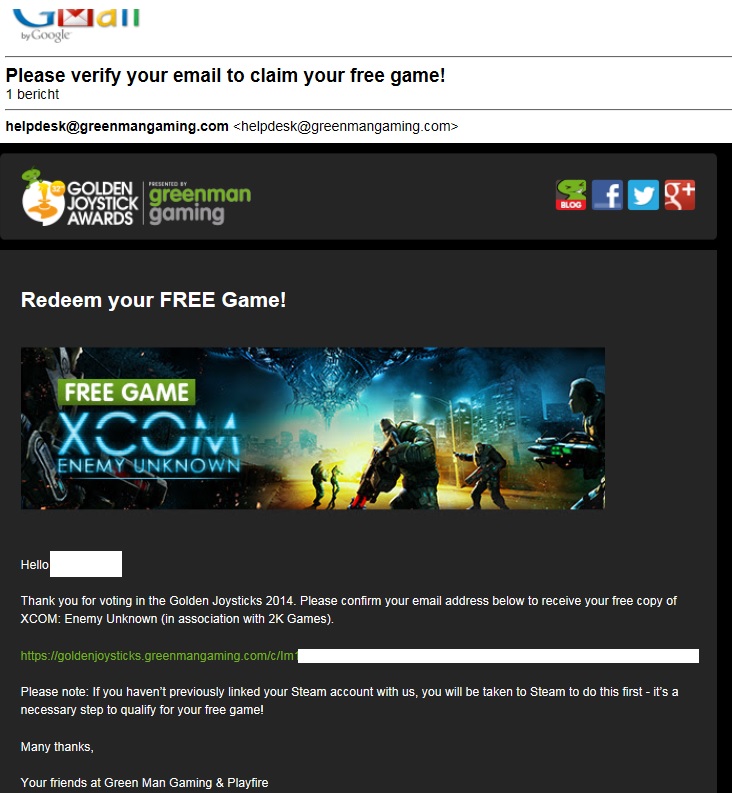 This URL will take you to the Steam website. Sinply log in to your steam account as usual. Now your accounts should have been linked.
Step 7 – Check your email
Now simply check your mailbox for a free copy of XCOM: Enemy Unknown! The email will contain a serial number that can be added to steam (Games>Activate a Product on Steam).
Other
You have untill the 18th or untill stock lasts. Good luck!