Introduction
Hi there! GameplayInside has updated to version 1.3 and (again!) there are a ton of changes.
Menu redesign

The menu has had a complete overhaul. IT has been structured to make more sense. Games have been grouped into Strategy, RPG and Shooter. Additionally three featured games remain for now; Civilization V Rift and Tropico 5. You can recognize them by the blue color. Finally website updates have been grouped into the updates category, instead of uncategorized.
Footer redesign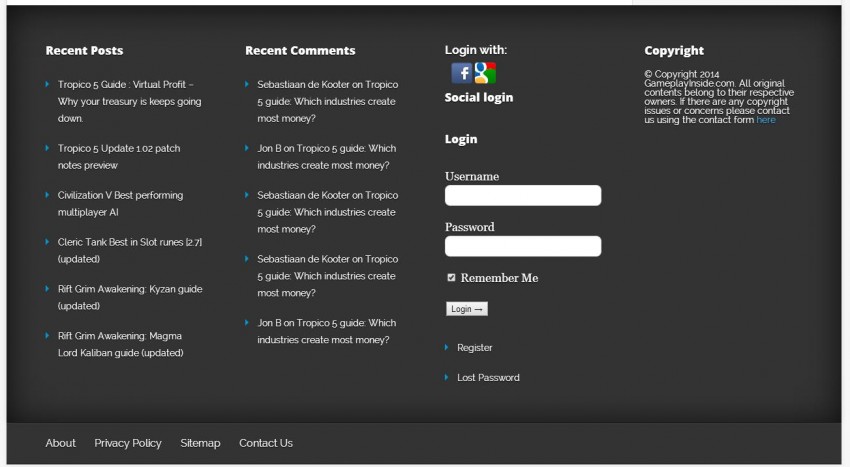 The footer has been redesigned to make it more compact. The Category list has been removed and replaced with Social Login and Login. Recent Posts and Recent comments have been reduced in size to match the new footer length.
Link cleanup
The amount of links on each page was getting out of control.
Tag cloud: -39 links
Tropico main menu: -8 links
Civilization main menu: -4 links
Recent Posts on the sidebar removed: -5 links
Recent Posts on footer reduced: -4 links
Recent Comments on footer reduced: -3 links
Removed Categories on footer: -19 links
So a total of 82(!) links have been removed from each page.
Most of these links will not be missed. The Tag Cloud was not really used (<1% of visitors) and Recent Posts can be found on the homepage.
Front page cleanup

The front page has been cleaned up. It no longer displays "Posted by Author in Category". Instead it will display "Posted in Category".
Author page

The Author link used to result in a page simply displaying all posts created by this author. A page has been added that displays Author info such as Bio and website. Additionally excerpts (intro texts) have been removed from the overview.